Reliable Car Shipping Company in Washington, 2023 Shipping Cost
Washington Car Shipping Service
5 Star Car Shipping Company in Washington for quality transport. We provide stress-free car transport service in Washington and on-time delivery for local and long distances.
LEADERS IN THE CAR SHIPPING INDUSTRY!
How car shipping works in Washington
---
Book online
Pickup
car shipping
Delivery
How much does shipping a car from Washington to Florida cost?
The cost of shipping a car from Washington to Florida can range from $1,950 to $2,500. Distance, weather, gas prices, season, and whether you choose enclosed vehicle transport can all affect the shipping cost.
Auto shipping in Florida typically involves two options:
Open car transport carrier
This is the most common and cost-effective option. Open carriers can transport multiple vehicles simultaneously, reducing the cost per vehicle.
Enclosed car transport carrier

This option provides extra protection for high-value or classic, sports, antiques and luxury cars, for this reason the shipping car price in a enclosed carrier will be higher.
Affordable Car Shipping Washington State
We Will Transport It has experience and knowledge regarding Vehicle Shipping in Washington State, which is why we are the preferred choice when you need a Car Haul to Washington State or a Car Haul out of Washington State! This makes Car Hauling in Washington State accessible and reliable.
Washington Car Transport Cost and Miles
| From to to | Average price | Miles |
| --- | --- | --- |
| Seattle, Washington 98112 to Albany, New York 12201 | $1,500 | 2,871 miles |
| Bellingham, Washington 98225 to Hollywood, Florida 33020 | $1,400 | 3,380 miles |
| Spokane, Washington 99208 to Schaumburg, Illiones 60193 | $1,000 | 1,791 miles |
| Lynnwood, Washington 98037 to Kent, Washington 98032 | $274 | 36 miles |
| Port Angeles, Washington 98363 to San Francisco, California 94128 | $850 | 897 miles |
| Roxbury Crossing, Massachusetts 02120 to Tacoma, Washington 98401 | $1,600 | 3,076 miles |
| Fort Lauderdale, Florida 33301 to Bellevue, Washington 98004 | $1,450 | 3,287 miles |
| Indianapolis, Indian 46220 to Redmond, Washington 98052 | $1,200 | 1,200 miles |
| Brookings, Oregon 97415 to Vancouver, Washington 98664 | $600 | 2,776 miles |
| Los Angeles, California 90043 to Lakewood, Washington 98498 | $1,050 | 1,103 miles |
* Prices shown above are from previous jobs we completed; they fluctuate depending on diesel and the time of the year.
Car Transport Companies Washington State
When you want to organize Car Hauling in Washington and are looking for the Best Car Transport Companies in Washington, We Will Transport It does the heavy lifting. We are a Five-Star Car Hauling Washington State company with experience in heavy hauling, and we have customer reviews to back up our many years of commitment to exceptional service. Contact us today for a free quote on Car Hauling To or From Washington State and get back to planning the rest of your trip. When you need Car Hauling in Washington, you can depend on We Will Transport It, the best Car Shipping company in Washington State.
Washington Auto Shipping 
Cost of Car Shipping Washington State
The Average Cost for Car hauling in Washington State will depend on a few factors.  One factor is your preferred travel dates.  Students come to Seattle for education at the state's 40 different colleges and universities. At the same time, senior residents often head south in the winter to avoid the cold and the snow.
Car Hauling in Washington State can be very busy at these times of the year. The start and end of the school year and the time people tend to head south fill up quickly.  Another factor in Car Hauling in Washington State was the price of diesel gas at that time.  Supply and demand will affect your quote for Vehicle Shipping in Washington State, so plan and book early.
Car Transport Washington State Options
We Will Transport It has different options for Auto Shipping Washington State services. Open-air vs. enclosed transport is a massive factor in determining the shipping price.
What are the differences? Enclosed shipping is used for costly cars, such as luxury sports cars and antiques. Open-air carriers are typically less expensive than enclosed transport. The amount of insurance you need (determined by the value of your vehicle) will also play into the costs. Open-air carriers will have $100,000 of insurance per vehicle, while enclosed transport carriers have a $1,000,000 policy.  We Will Transport It can help you decide on Car Hauling in Washington State.
The Preferred Choice for Car Transport Companies Washington State
When choosing a company for Car Hauling in Washington State, We Will Transport It works with only the best carriers. We always provide our customers with numerous quotes from carriers who we know give the best service at competitive pricing. We have years of experience in the auto shipping industry, and our customer service agents are experts in answering all your questions about Car Haulings in Washington State.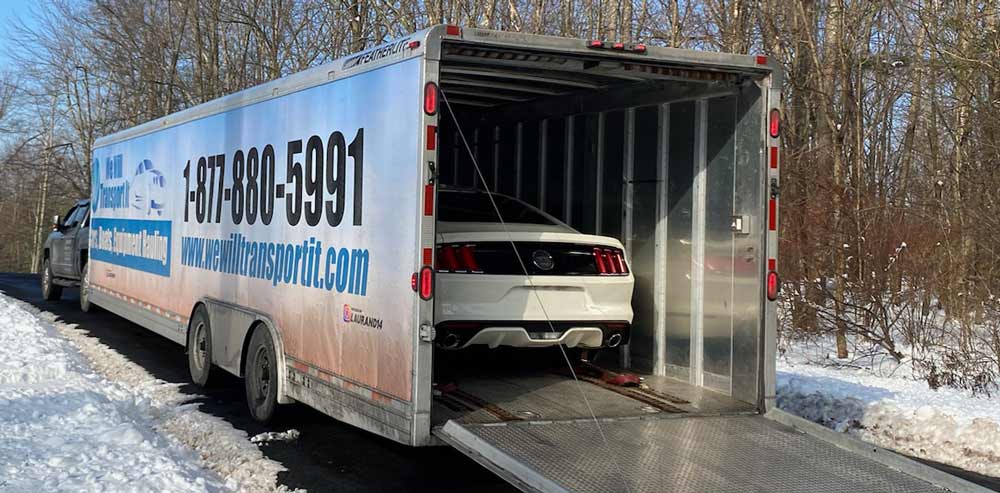 We Will Transport It is a five-star Car Shipping company in Washington State, Car Shipping to Washington State, Car Shipping from Washington State, International Shipping Company and heavy load-hauling specialist. We will give you top-rate service for a fair price.
Cheap Car Shipping Washington

Open carrier shipping carrier is the most affordable and popular method of moving vehicles. Ship a Car Direct offers cheap car shipping services for long-distance moves at only 53 cents per mile.
Washington Classic/Sports Car Transport
Enclosure auto transport is the best option when shipping a vintage car. This method protects your vehicle by placing it inside a sealed trailer. The cost of enclosed transport is higher than that of open transport.
FAQs
What is the cheapest service to ship a car in Washington?
The most affordable and popular method of moving vehicles is through open carriers. We Will Transport It and Elite Car Shipping Company offer bargain rates and excellent customer service. At only 33 cents per mile, We Will Transport It offers cheap long-distance car shipping services and the best customer service.
What is the cost of shipping a car from Washington?
According to We Will Transport It, moving under 550 miles will cost you about $2.05 per mile. For moves between 550 and 1,500 miles, the rate is 0.98 cents per mile. For car transportation over 1,500 miles, you will be charged 0.65 cents per mile.
How much does it cost to ship a car from WA to NY?
Washington to New York Car Shipping (With 2023 Costs) Quick Answer: The average cost to ship a car from Washington to New York ranges from $1,806 to $2,834.
Suggested links:
Completed car transport in and out of Iowa by We will Transport it
A long-time friend and customer of the company wanted her 2012 Honda Civic transported from Boca Raton, FL to Bremerton, WA which took 6 days for delivery. Great customer who was facing some hardship and reached out to We Will Transport It for a better rate than what the other brokers were charging her. This transport was very smooth, and I gave her a quote for $1450; the contract was signed within minutes, and her vehicle was picked up the very next morning by one of our well trained and experienced drivers of over 15 years who drives a 9-car open trailer.
1994 Chevy 3500 going from Houston, Texas 77001 to Issaquah, Washington 98027. The truck had a four-inch lift and 35-inch tires. After dealing with a company for two weeks they called us and we explained that it was going to be very difficult to find a car carrier to take the job because of the height. We found a flatbed trailer with ramps to take it for $1,650.00 and had it picked up the next day. For all your car transport needs, give We will Transport it a call today.
Washington Facts
Known as the Evergreen State, Washington is a state in the North-Western United States. Washington's capital is Olympia, but Seattle is the most significant and most industrialized city. Washington has two climate zones. West of the Cascades, the summer days are mild and humid, with mild winters, and the eastern part of the state has cool winters and warm summers.
Seattle's diverse economy is widely based on the manufacturing of transportation equipment.  It is also a seaport city, which, in 1911, the Port of Seattle was formed.  The Port of Seattle is known for being the first municipal corporation that became autonomous and was one of the first ports to engage in commerce development. There are over 75 ports in Washington State, large and small.