WE WILL TRANSPORT IT
Best Car Shipping West Virginia Company
25+ YEARS OF EXPERIENCE
LEADERS IN THE CAR TRANSPORT INDUSTRY!
NO MONEY DOWN | NO UPFRONT DEPOSITS!!!
5 Star Car Shipping West Virginia Company
We Will Transport it, is the preferred car shipping company for car hauling to West Virginia and car-hauling from West Virginia. Known as the Mountain State, West Virginia is a state in the Southern United States. Its capital city is Charleston, which is also it's largest and most industrialized.

The city of Charleston hosts the only water Port in the state, which is the Port of Huntington-Tristate. Hundreds of other dry ports are also located throughout West Virginia. As far as road transportation goes, West Virginia has eight major interstate highways including I-64, I-68, I-70, I-73, I-74, I-77, I-79, and I-81. It is also home to several major U.S. highways, this makes car hauling to West Virginia, and Car Hauling from West Virginia very easy.
Things to Remember About West Virginia Auto Transport
Check our West Virginia Auto Transport services and save time and money with us. If you're moving, either to or from West Virginia, one thing you need to decide is whether or not to ship your vehicle.
Car Hauling West Virginia is a common way to save yourself the hassle, stress, and wear-and-tear of driving your car across great distances. You are going to have more than one Car Moving Company WV but We Will Transport it has the best truck drivers, with fast and secure car transportation and delivery. When it comes to Auto transport to West Virginia residents will have several factors to consider:
What time of year do you need your vehicle shipped?
Do you want an open car or enclosed carrier transport?
Do you need door-to-door delivery?
All these questions and more will affect the cost of Car Hauling West Virginia.
Main Cities for Car Transport West Virginia
---
Car Transporting Morgantown, WV
Car Hauling Huntington, WV
Car Transporting Beckley, WV
Car Hauling Beckley, WV
Car Shipping Parkesburg WV
Best West Virginia Car Transport Company in the US.
Cost of  West Virginia Car Shipping
---
The time of the year a car is shipped will affect the cost of Car hauling in West Virginia. Why? Demand for carriers may drive up prices. This isn't as large of a factor in West Virginia as in some northern states, where Snowbirds flood the market with business every winter. Still, supply and demand will affect your shipping quotes.
Car Transport To and From West Virginia
---
If you need our Car Transport to and From West Virginia, check the following options. Open car transport versus enclosed transport is also a factor in determining the shipping price. Open car carriers are typically less expensive than enclosed transport. The amount of insurance you need (determined by the value of your car) will play into the costs as well. Open carriers will have $100,000 worth of insurance per vehicle, while enclosed transport carriers have a $1,000,000 policy per vehicle.
Auto Transport to West Virginia
---
Do you need the West Virginia Car Transporting services? We Will Transport It works with only the best carriers in the business. We provide our customers with several quotes from carriers who are known to provide five-star service at competitive pricing. With years of experience in the auto shipping industry, our expert customer service agents can answer all your questions about the east coast auto transport that West Virginia residents trust most.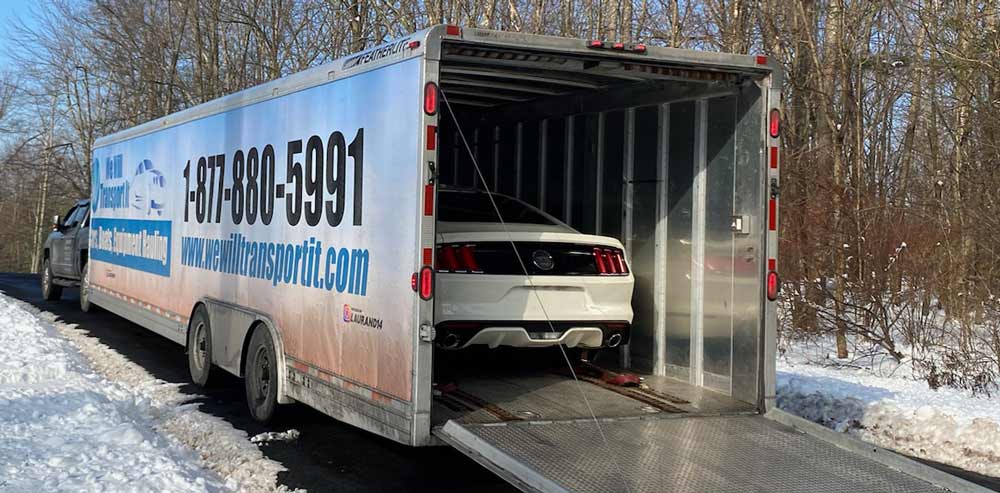 We Will Transport It will cover WV Auto Transport needs, just call and save time and money with us!
East Coast Auto Transport with us, don't delay; the sooner you book your carrier, the better! Call We Will Transport It at 855-600-1118 today to get started. Or, fill out the easy online quote request form.
Car Shipping West Virginia
---
We Will Transport It is a five-star Car Shipping West Virginia, Car Hauling to West Virginia, Car Hauling from West Virginia, International Shipping Company, and heavy load-hauling specialist we will give you top rate service for a fair price.
We have Car Transport offices around the US and more…
Shipping Cars from California
Florida Nationwide Cars Transport and International Shipping
New York Car Boat Shipping
Hawaii Car Shipping
Car Shipping West Virginia (Suggested Links)