Best Container Vehicle Shipping in the Industry
If you are looking to ship a vehicle that isn't oversized you have two options. One is to use an open-air carrier and the other is container vehicle shipping. Everyone has probably seen an open-air carrier.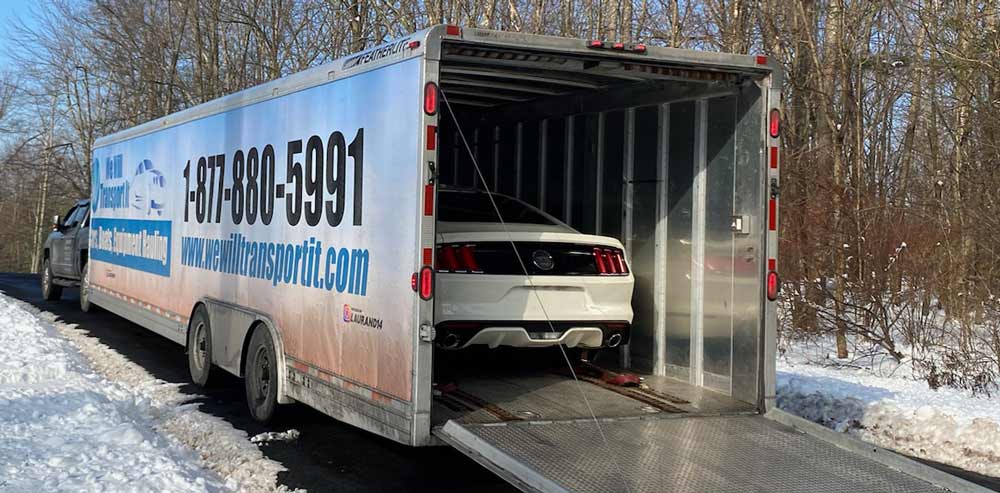 They are a common sight on most highways, but less is known about container shipping and the added benefits that come along with that option and for some vehicles, those benefits are exactly what you need.
What is Container Vehicle Shipping or Enclosed Transport?
Container vehicle shipping or enclosed transport is exactly what it sounds like. Instead of having your vehicle transported on an open carrier, your car is put in a container.
Containers can hold 2 – 4 vehicles. This makes container shipping more expensive. However, the expense is the only negative that comes with container shipping.
We Highly Recommend Closed Vehicle Shipping for the Following Containers:
Classic Cars or Antiques
Motorcycles
Luxury Sports Cars
Any Vehicle Worth More than $100,000
Benefits of Container Shipping
Higher Insurance Coverage

As you can see above, we suggest that any vehicle worth more than $100,000 be transported in a container. This is because we ensure all vehicles are in a container at 1 million dollars. Vehicles transported in an open-air carrier are only insured for $100,000.

Complete Vehicle Protection

Some vehicles should not be exposed to extreme weather or road debris. This is where container shipping comes in handy. Your vehicle is completely safe once it enters the container and is not taken out until it is delivered. This keeps your vehicle safe from any potential damage from transport or outside environmental factors.

Added Security

Classic or luxury car pieces are extremely valuable. Even the smallest part can catch quite the fee on the black market. Keeping your vehicle out of sight is the best way to keep it safe while it is transported. A container will keep your vehicle out of sight.

Climate Control

Many shipping containers are climate-controlled. This makes them perfect for antique and luxury vehicles that cannot get too cold or too hot. This will protect priceless leather or other old parts that are just a bit on the fragile side.

Easier and Safer Overseas Transport

If you need to ship your vehicle overseas, then a container may be the best way to go. Container shipping is available in most countries where open-air carriers are not available. This is especially true if you are traveling to a smaller, less developed country.
Container vehicle shipping or enclosed transport is an excellent choice for shipping your vehicle and We Will Transport It can help you with the process. Our drivers and the many transport companies we work with are fully certified and have the experience to move your vehicle safely and with the care it deserves.
Are looking into container shipping, you probably have a vehicle that is extremely valuable to you. We at We Will Transport It understand that value and will work with you to get you the transport you need. Contact us online or call us toll-free at 877-880-5991.
Container Vehicle Shipping (Suggested links)
Looking for the Best Container Shipping quote? Just click here.